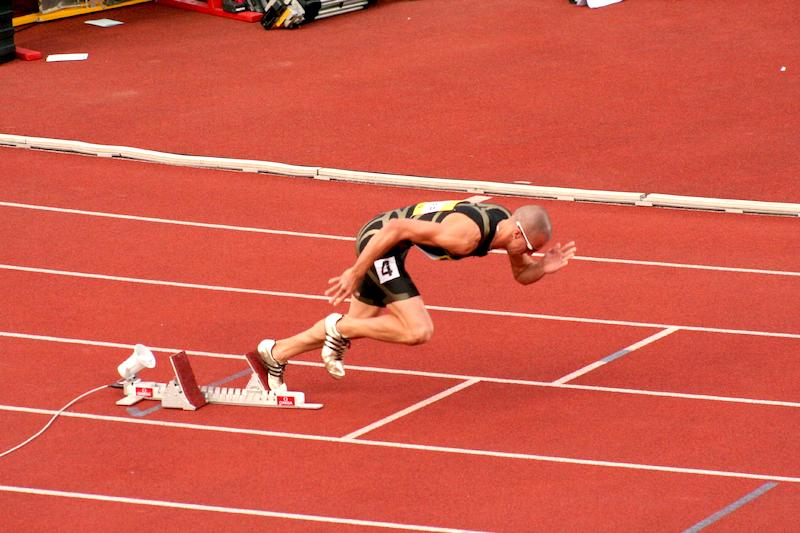 With 2015 already 2% done by the time you read this, you must be wondering what events you can expect from LaN for 2015. Without further ado, a listing of just that:
Start. Image source: Phil McElhinney, CC-licensed from http://commons.wikimedia.org/wiki/File:Start_Jeremy_Wariner_2007.jpg

SAS2015! This time Berlin will be the town to host the second big scattering event of the decade. An event not to miss, it is something I have been looking forward to for a long time (though I hope I can find an entertaining topic to talk about by then). Important dates are the abstract submission deadline on the 8th of March, the registration deadline on August 29, and the event itself from the 13th to the 18th of December. I hope to meet many of you there!

Plastic Fantastic Project. Next week's blog post will explain this in detail, those who follow my Twitter stream will already have an inkling!
MC Software and associated publication(s). Ingo and I have worked for almost two years to improve the McSAS software so you can use it effortlessly. The draft publication is already available, and has been submitted, but these things take time.
The software will not work without good data, so advances in the data correction software hopefully should also lead to an eventual useful and open source product!
More Ultra-SAXS instrument experimentation. With the upcoming new X-ray source and new parts, I should be able to make an improved design that is easier to use.
Talks. Unfortunately, an accident in the family had me cancelling my trip to France. Hopefully I will be able to pick this up again and travel to visit a few more laboratories and universities. Let me know if you want a visit!
That is all I can think of for now, but there are bound to be (hopefully pleasant) surprises!
Have an excellent 2015!