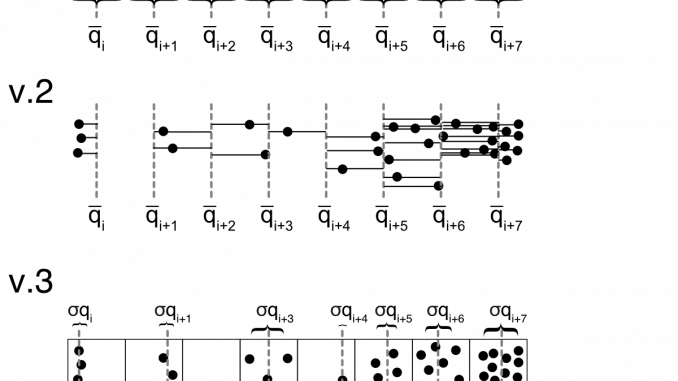 During our experiments, each pixel on the detector gives us a datapoint, with the pixel collecting all photons that arrive across its surface. However, since detectors have many more pixels than the amount of datapoints we can realistically use, we usually perform some sort of averaging or binning procedure, grouping proximate pixels together to form a single datapoint. It is an important procedure, and so I have talked about this many times before (here, here, here, here, here and here). Today, I'd like to discuss what we do specifically with our scattering vector Q.
The most common procedure involves defining new boundaries. Pixels with q-values (e.g. centre 0f mass) that fall within a pair of these bounds are considered part of that bin. We then calculate the mean intensity, propagate the uncertainty on the intensity, and calculate the standard error on the mean as well for a second measure of uncertainty (see Figure 1, v.1).
A second version of this method, the pixel-splitting method, works slightly differently. It does not deposit all the intensity of a given pixel into a single bin, but separates the intensity between its two neighbouring bin means, with a ratio dependent on the distance from the pixel centre to the means (Figure 1, v.2). The closer the pixel centre to a given bin mean, the more intensity ends up in there. This makes it a bit more cumbersome to calculate the uncertainty statistics, but it's not impossible.
Historically, we have been less bothered by the value of Q assigned to the bin. In v.1, we take the mean Q value between the bin edges. In v.2, we only work with predefined bin edges. However, our work estimating uncertainty budgets in Q, and the larger-than-expected effect on a Q-shift on the data, has shown that we might need to be more accurate about what we do with it.
So we're now considering the following, and experimenting with its effect: We do the binning in the traditional (v.1) way, but we use the actual pixel Q values to calculate the mean Q and the standard error on the mean Q for each bin (v.3). We can even take this one step further. Every pixel is defined not just by its centre-of-mass Q, but also by the pixel width
. We can propagate these pixel uncertainties as well to get a second value for the propagated Q uncertainty for each pixel.
This way, we should end up with more accurate Q values on our binned data, with bonus uncertainties. This is particularly effective in areas with a small number of pixels, typically close to the beamstop in pinhole-collimated instruments. I don't know if we can somehow take the Q uncertainty into account during the fitting procedure, but if we want to, it's nice to have them there already.
As usual, please leave thoughts below!