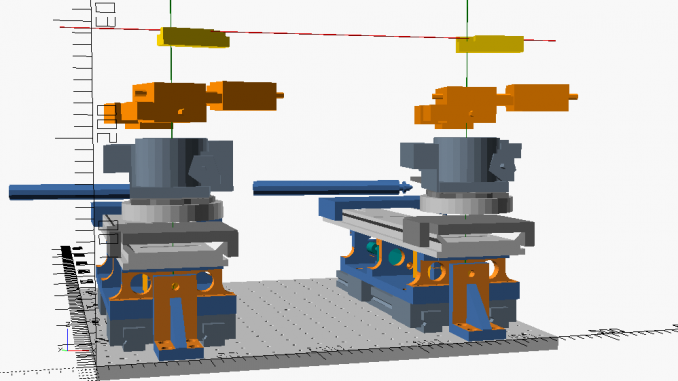 As noted at the end of last year, interested parties at ESRF and Diamond agreed to fund the next iteration of the Bonse Hart-style USAXS instrumentation. This was done on the condition that it would be synchrotron-ready, and so needed to be peppered with a few more automated motions. Here's what's been going on so far.
We started by ordering most of the critical components. Naturally, we will have some changes, and undoubtedly there will be last-minute orders to make. But for now, a lot has been ordered, and about half has arrived already.
The components that were ordered have been modeled and put in their respective positions (for now) in a 3D model to see how it would fit together (as shown in Figures 1 and 2).
Using OpenSCAD, I then designed some of the remaining custom components. This works well as I am familiar with the language. The drawback, however, is that openSCAD doesn't export the 3D model to any format used by a workshop.
After struggling with this for a while, I came across freeCAD, which, while still under development, can import openSCAD models with reasonable reliability. In freeCAD, I can then annotate the model with dimensions and notes. Hopefully, my limited knowledge of technical drawing is sufficient to be understood by the workshop (something I'll find out on Thursday). The drawing of a simple bracket using FreeCAD is shown in Figure 3.
With such drawings, hopefully our workshop will be able to get started on the first few pieces, which should be coming out in a month or two. Fingers crossed (again) that it'll work!