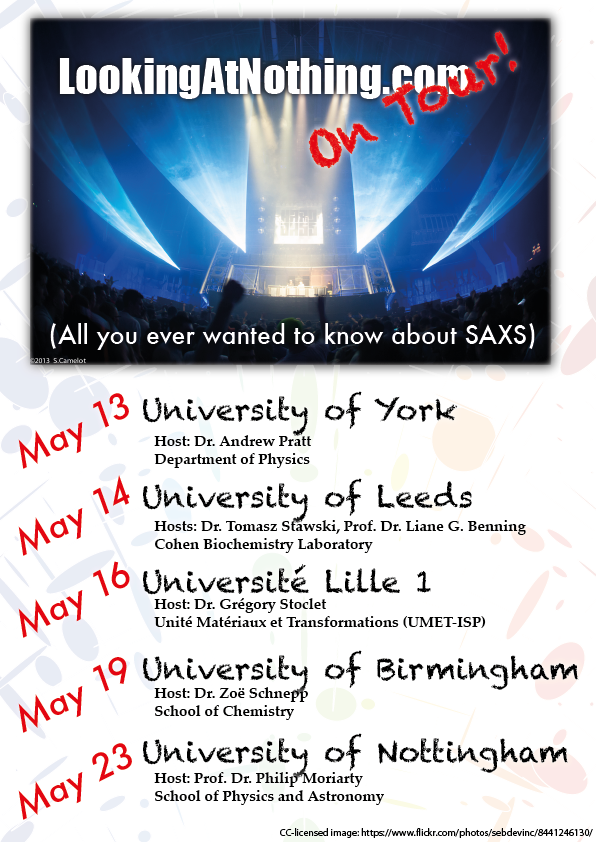 Through a combination of events (and Twitter), my visit to the Diamond Synchrotron has become the nucleation site for a whole host of talks throughout the UK and France. Here's the plan: 
I'll kick off the whirlwind, jetlag-addled, cafeine-fueled tour in York on the 13th of May. Here, I'll be visiting the lab of Dr. Andrew Pratt of the Surface Physics Group. I expect some nanoparticle-induced fun here!
After this, it's off to Leeds to visit Tomasz Stawski and Liane Benning at the School of Earth and Environment. This talk came to be because of Twitter, and I'm very excited to see "social" making its mark in science this way.
After that, it's off to France! I'll be visiting Grégory Stoclet, with whom I've swapped many e-mails on a large number of topics, and whose 2D SAXS work is particularly interesting. On Friday the 16th, then, I'll be talking at UMET at the Université Lille 1 while soaking up French academic culture.
Back to the UK, I'll be visiting the University of Birmingham on Monday the 19th. Here, Dr. Zoë Schnepp (of Schnepp Group fame) is situated, comprising one half of the prolific and energetic Schnepp–Hollamby duo, I'll be joining them for experiments at Diamond's I11 later that week as well.
The brunt of the week will be filled with beam-line experiments on cool materials, from which I hope we'll see some interesting details come up.
The beamtime ends on Friday the 23rd, so it's off to Nottingham for me then. By then I'll have overcome most of the jet-lag, but might still have the echoes of the beamline ringing in my ears. At the University of Nottingham, I'll be visiting Prof. Dr. Philip Moriarty (of Anti-Stripy Nanoparticles–fame together with Julian Stirling and coworkers, and who is also well-represented on YouTube). This is going to be a blast, before blast-off back to Japan in the week-end. If I survive, I'll tell you all about it here.