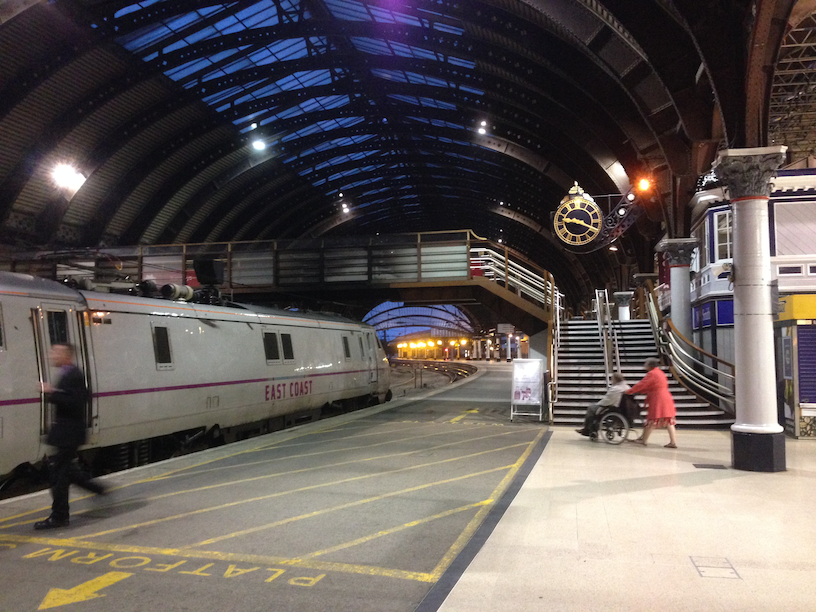 York and Leeds, the first 40% of the presentations all done. Still to go: Lille, Birmingham and Nottingham, and a few synchrotron days in between. Read on for the experiences at the first two places:
York proved to be a good kickoff to the tour. A quite small city, it is full of history and atmosphere. Fortuitously, there are good coffee places to be found (especially compared to the terrible mess I paid for in Kings Cross), so the One Weird Trick to Skip Jetlag wasn't bad at all.
As soon as I was sufficiently doped on caffeine, Andrew Pratt proved to be a good tour guide, leading me past a wide range of researchers working on a large variety of topics. The lunchtime lecture was well-received (though I left one demo in the hotel), and there were good, insightful questions afterward. Finishing with a tour through the city, a good bite to eat and a coffee (got to keep the caffeine levels nice and lethal), it was an excellent first day.
After a brief journey in the train the next day, I arrived in Leeds. Much bigger than I expected, the walk up to the university (stopping for coffee and free WiFi) was impressive and allowed the exchange of pounds that had apparently gone off. The university grounds are absolutely massive and full of that lively energy that makes you miss the student years dearly.
Tomasz Stawski and Liane Benning (apparently long-time readers of LookingAtNothing) were good hosts and fun to chat with about topics large and small. The School of Earth and Environment was a lot more down-to-earth than the name would suggest and hosts solid researchers doing impressive research.
Having adapted my talk organisation slightly based on the York experiences, it flowed even better than before. With all demonstrations present and working, I was very happy with the presentation (and I hope the audience was as well).
Now I'm having a travel day, which is a bit of a relaxation point in the middle. After spending another staggering wad of cash on a train ticket — which are amazingly expensive in the UK, as if to discourage travelling even within their borders — I'm now in the train enjoying a brief moment of free WiFi and taking the time to write back to people.
From here, it's onward to Lille, where I'll be talking tomorrow courtesy of Grégory Stoclet, and then back to the UK to visit Birmingham, frantically rush through some measurements at Diamond, and pepper the last day with another talk in Nottingham. So far, much fun!